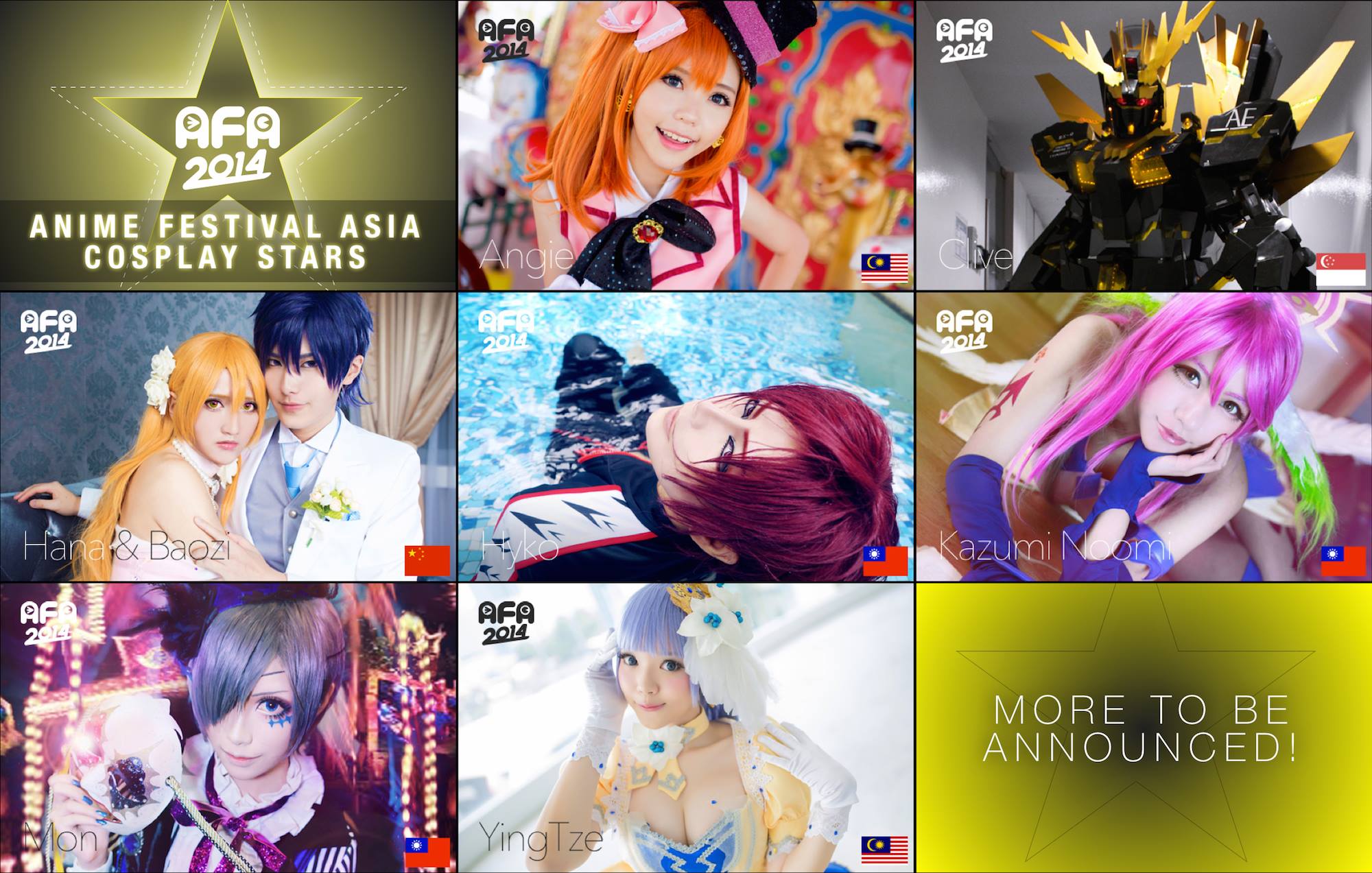 BEHOLD ! THE LINE UP OF SPECIAL COSPLAYER GUEST FOR AFA SG 2014 HAS BEEN ANNOUNCED. ! 
 AHHHEEMMM ! Attention fellow cosplayers as well as cosplay fans ! This year , A huge wave of cosplay superstars will be coming your way in AFA SG 2014 ! I am sure you will have a great time racing around the halls to catch them !
This year's AFASG Cosplay Superstar light shines on :
Malaysia's Kawaii Little Angel , Angie !!!
Well, I am sure all most of you know that this is not Angie's first time attending AFA SG but it's a great chance to be able to catch her in real life again isn't it ? Isn't it guys ? Like I meant she does has a smile of an angel right?! Guys?!
Well anyways,  Angie had been doing lots of new cosplays recently and I am sure she has more up her sleeve with plans and surprises for everyone at AFA SG 2014 ! And not to mention , her Photobook ! Angie is bringing her PHOTOBOOK to AFA SG! LA LA LA ! and and and as a bonus, I recently stalked her on her page and the super cool thing is, she is making Sinon postcard prints to go along with the photobook and all.
Official Facebook : https://www.facebook.com/Angie7099
WorldCosplay: http://worldcosplay.net/member/3438/
---
Next up is Singapore's very own cosplayer , Clive !
You don't see him in person but you will know it's Clive just with the apperance in his mecha. ! Clive is an experienced cosplayer who specialise in Gundam Mecha Cosplay. Just look at the picture and tell me that is not amazing ! I mean , come on!
This Gundam looks like it came out from the TV Screen ! Clive is a Singaporean cosplayer but still, Come down to AFA SG 2014 to meet this real life mecha!!!
Maybe you can hug it ! O_O ! Imagine hugging a real life super huge Mecha! Life is short ! Do crazy things you will never forget! #YOLO
Official Facebook: http://www.facebook.com/Clivecosplay
DeviantArt: http://miragecld.deviantart.com
WorldCosplay: http://worldcosplay.net/member/miragecld/
---
Deng Deng Deng ! The Kawaii and loving cosplay duo from China Hana and Baozi is visiting !
Hana and Baozi are coming to AFA SG 2014  TOGETHER!!! They recently attended AFA ID  2014 and now they're coming to AFA SG! They certainly have gained a lot of love and attention from Asian countries and I am one of their super super hyper fan too! They are just so cute together and their cosplay !!! So much feel! Please Please Please Do not  miss out Hana and Baozi in real life !They're really nice and friendly in person ! Both of them recently released a new photobook called ' Love Letter '
ANDDD THEY WILL BE
BRINGING BOTH LOVE LETTER AND LI SHANG TO AFA SG 2014 FOR THE SINGAPOREAN FANS! 
Make sure you catch both of them to get the photo book ! It is exclusive !
Official Facebook: https://www.facebook.com/pages/Baozi-hana/346387008839493
WorldCosplay: http://worldcosplay.net/member/24609
---
AFA SG 2014 brings you Hyko from Taiwan !
Hyko is a Taiwanese cosplayer who is very well known for cosplaying handsome anime characters such as Ren Jinguji [ Uta no Prince-sama ] , Rin Matsuoka [ Free! ] and etc etc. She has been cosplaying since 1998 until now !
WOW!!! How many years is that ?!!! And yes ! Hyko is a SHE!!! *Shocked* I SERIOUSLY CAN'T WAIT TO MEET THIS LADY UP CLOSE !
Hyko will be attending AFA SG 2014 as a special guest so come down and visit her okay ? *Wink*
Official Facebook : https://www.facebook.com/hyko.hakkou.kagaya
WorldCosplay : http://worldcosplay.net/member/24595/
---
Another Taiwan cosplayer coming to AFA SG 2014 this year is KAZUMI NOOMI!
Kazumi Noomi is also a famous female Taiwanese cosplayer most well known for her Inori [ Guilty Crown ] cosplay and she will be coming to AFASG14! This is her first time guesting for AFA so let us all warmly welcome her.
Kazumi had done more than 300 cosplays !
Like WHAT ?! 300?!!! Imagine yourself transforming into 300 different people ! Is that even possible ?! Well , it was possible for Kazumi tho.
Official Facebook : https://www.facebook.com/KazumiNoomi
Official Twitter : https://twitter.com/kazuminoomi
---
The Ultra Adorable and Moe Moe Mon from Taiwan is also attending AFA SG 14.
Mon is a super duper cute and sweet cosplayer. Just look at those big round eyes and flawless skin ! At such a young age , Mon is already visiting various conventions in various countries. Mon is also really talented as she can cosplay both male and female characters perfectly without any hassle at all.
This isn't Mon Mon's first time coming to Singapore but I am sure because of her immense amount of supporters , most of you didn't really get the chance to meet her.
So this time, Make sure you GET YOUR CHANCE !
Official Facebook: https://www.facebook.com/monpink1215
Official Blog: http://blog.yam.com/user/monpink.html
WorldCosplay: http://worldcosplay.net/en/member/monpink
Official Weibo: http://www.weibo.com/2369513884/profile?topnav=1&wvr=3.6
---
 Last but not least , Ying Tze from Malaysia
Malaysia's cosplay queen will be attending AFA SG 14 together with other cosplay superstars to meet the fans! Graduating for a prestigious and leading fashion school in Malaysia explains Ying Tze's well made and detailed costumes!Ying Tze always adds a touch of 'bling' into the costume she makes and well , I must say she really have a great fashion sense !
This time , Ying Tze will not be attending AFA as a meido from MMK Maid Cafe but as a superstar!
Official Facebook page: https://www.facebook.com/YingTze1206
WorldCosplay: http://worldcosplay.net/member/yingtze/
Well, That's all of the Cosplay Superstars for now ! But, There's more coming so stay tuned for Wave 2 !
For more information please visit the official website : http://animefestival.asia/afa2014/
Event : Anime Festival Asia 2014
Venue : Suntec Singapore Convention & Exhibition Centre
Date : 5/6/7 December 2014
Make sure you don't miss them out ! This is only the first wave and there will be more coming your way 😀
Only at Anime Festival Asia 2014 (Singapore)
Tell us how can we improve this post?