Despite with sore body and worn out voice from the last 'I Love Anisong' concert. There was no lack of passion and tiredness from the audience when we stepped into the hall on the second day. We can see the audience still can't get enough of it from the last concert and are ready for more.
DJ Kazu
DJ Kazu back again on day two to warm up the atmosphere for AFA ID. Even after his event, DJ Kazu was doing another live concert after the main concert at the Sony booth with an awesome after concert party to release all the remaining energy for those who still did not not have enough from the concert.
Blasting off with 'Sister's Noise', 'Burst the Gravity'  to songs from fripSide, Altima and others, the crowd jump nonstop throughout his segment with other popular hits from the oldies such as '1/3 no Junjou na Kanjou' , 'Butter-Fly' , and 'Pegasus Fantasy' although not many people knew 'Yuusha-Ou Tanjou' sadly, DJ Kazu still managed to get the crowd going.
What goes better than having 2x revenge with 'Guren no Yumiya' to end the segment. Overall DJ Kazu mixes were smooth and hit exactly on the rite point for the crowd. Energy was definitely well spent here.
Do keep a close watch out for DJ Kazu if he happens to pop up in your neighbourhood for his awesomeness.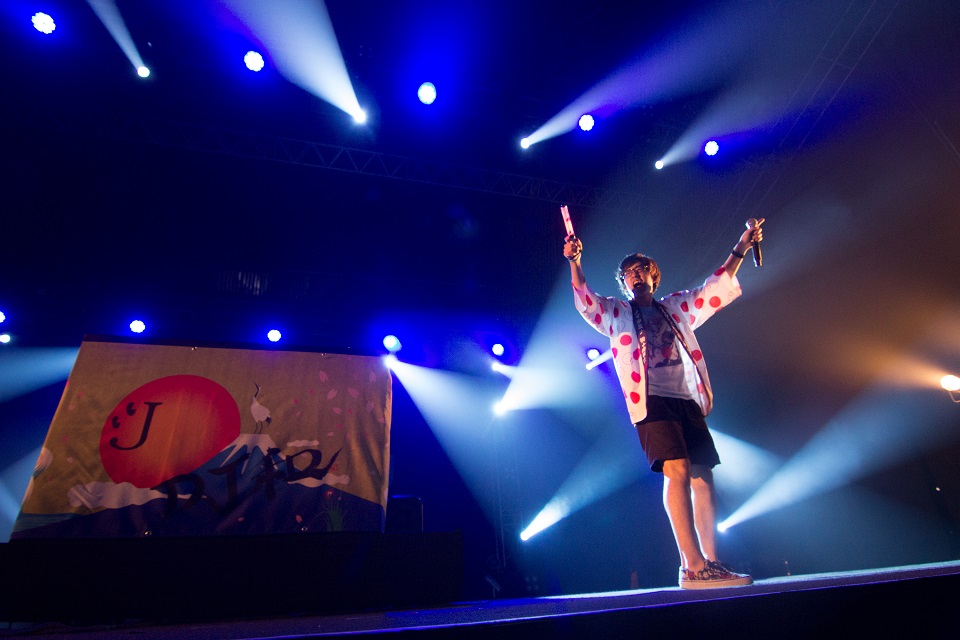 Set List
fripSide – Sister's Noise (Toaru Kagaku no Railgun S OP)
Altima – Burst the Gravity (Accel World OP2)
Suzuki Konomi – This Game (No Game No Life OP)
Kalafina – To the Beginning (Fate/Zero OP)
supercell – Kimi no Shiranai Monogatari (Bakemonogatari ED)
Siam Shade – 1/3 no Junjou na Kanjou (Rurouni Kenshin ED6)
Wada Kouji – Butter-Fly (Digimon OP)
Endou Masaaki – Yuusha-Ou Tanjou (Gaogaigar OP)
Make-Up – Pegasus Fantasy (Saint Seiya OP)
Nakagawa Shouko – Sorairo Days (Tengen Toppa Gurren Lagann OP)
Egoist – The Everlasting Guilty Crown (Guilty Crown OP2)
Ling Tosite Sigure – abnormalize (Pyscho-Pass OP)
Angela – Kings (K OP)
Aoi Eir – Sirius (Kill la Kill OP)
serial TV drama – Tougenkyou Alien (Gintama OP9)
Flow – Go!!!! (Naruto OP4)
Linked Horizon – Guren no Yumiya (Shingeki no Kyojin OP)
---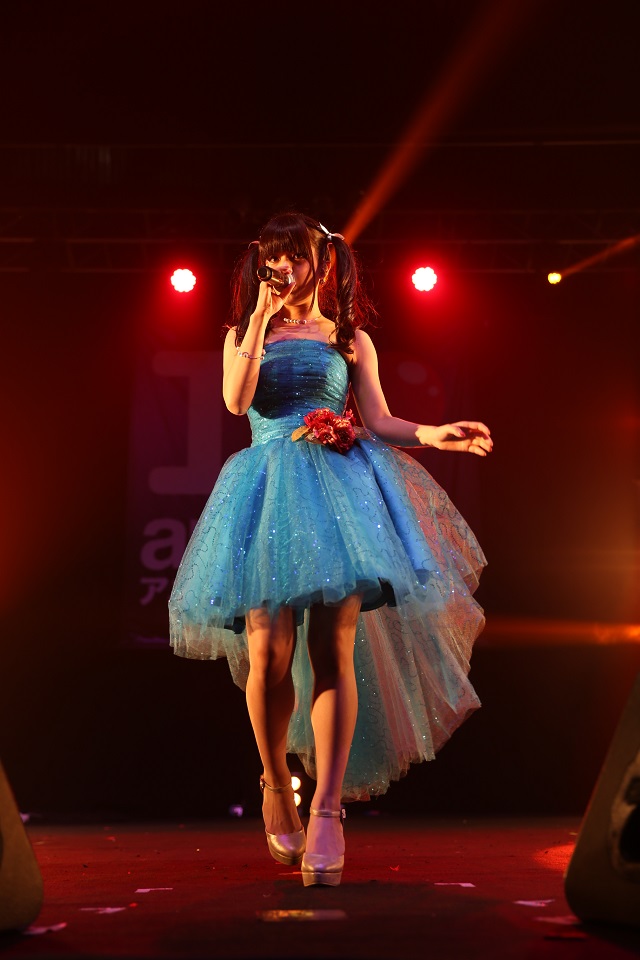 Luna 

Haruna
Anime lover and Lolita fashion girl Luna Haruna took stage after DJ Kazu wearing a green/blue frilly dress. Luna Haruna has rose fame after winning the Tokyo finals of the 4th Anison Grand Prix. Lolita lover Luna Haruna fans goes crazy while shouting for her even at the start of the concert.
Upon her arrival fans immediately change to green on their lightsticks which is her theme colour.
Luna Haruna sang 'Ai wo Utae' to kick-start her segment. Though the audience maybe a bit slow at the start, they quickly caught up with the beat of her songs. Her sweet voice really captivates the audience while everyone was waving their lightsticks side to side throughout her songs especially at 'Startear' from "SAO II".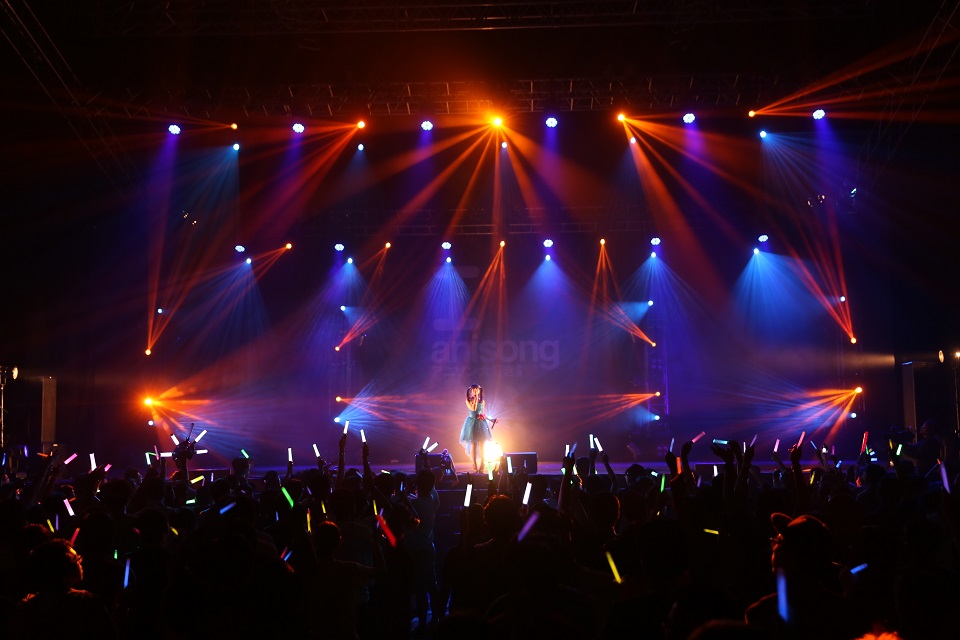 Even at 'Kyousou Refrain', the audience join in hand clapping with Haruna Luna as she leads the crowd. She ended with 'Overfly' from SAO where everyone was singing along with her making it a remarkable and unforgettable night. Definitely everyone that night hope to see her again and listen more to her live.
Set List
Ai wo Utae
Snowdrop
Binetsu no Tsuki
Kisaragi Attention
Sora wa Takaku Kaze wa Utau
Startear
Kyousou Refrain
Overfly
---
GARNiDELiA
GARNiDELiA combi MARiA and Toku did not fail the audience by bring out a special list of those who had supported their music from the past and even their new supporters. The Combi started with 'ARiA' and also song like 'ORiON' and 'SPiCa' from their first mini album "One".
Many fans back dated from their 1st few release were cheering very loudly throughout their segment. Audiences were also familiar with 'COLOUR' from "Freezing".
During 'Lamb.', MARiA's beautiful dance steps certainly invites lots of cheers and wow from the audience. The last 2 songs GARNiDELiA brought to the audience were from mainstream anime, namely 'Griletto' of "Mahouka" and 'Ambiguous' from the "Kill la Kill". GARNiDELiA really shows us they were no small names even though they just debuted under Defstar.

Set List
Aria
High True
Colors
Lamb.
Orion
Spica
Griletto
Ambiguous
---
T.M.Revolution
The key highlight for the night was definitely T.M.Revolution. Whoever did not hear this name should go back to study their history of animes even Luna Haruna is a fan of Gundam Seed and T.M.Revolution sang for it, so you should too right? He had also brought down his band and team along for this concert.
Opening with 'Preserved Roses' where the audience roared. T.M.Revolution then also sang a lot of songs from the series "Gundam SEED / Destiny", like 'Invoke', 'Vestige' and 'Ignited'. Female audience were cheering their loudest and going wild when he started stripping his shirt down, this time revealing his muscular albs.
I think the ladies really enjoyed this part right?
While jumping up and down getting us to screeeeeeeam throughout his segment, the show has to have an ending where he ended with another power song, 'Kakumei Dualism' from "Valvrave"
Even after leaving, the crowd keep shouting En-co-re! En-co-re! En-co-re! nonstop for T.M.Revolution to come back again on stage. Their efforts paid off and finally T.M.Revolution came back for one last song 'Heart of Sword' from "Rounin Kenshin". With his request, the audience sang along with him in this last song.
Among the sea of crowd a Indonesia flag came out from it, that has caught the sight of T.M.Revolution. He spared no time at all jumping off the stage, raised it high above his head. From his actions and excitement as he waved the flag proudly as if they were like one he seems to be telling the crowd a revolution has been made here.
Lastly, T.M.Revolution gave his goodbye and he promise to return back to Jakarta.
Set List

Preserved Roses
Invoke
Vestige
Yabureru Tsuki – Time to SMASH!
Count Zero
Meteor Zips
Ignited
Kakumei dualism
Encore : Heart of Sword
Tell us how can we improve this post?