During Anime Festival Asia Indonesia 2014 (AFA ID 2014), we had the rare opportunity to be seated together with the director, Atsuko Ishizuka, and producer, Sho Tanakao, of the hit anime, "NO GAME NO LIFE".
Along with media friends from SGCafe and AFA Channel, we had a fun and unforgettable time with them. Without further ado, let's move on to the interview segment of this post!
One of the lines that the main protagonist, Sora, frequently states that life is a horrible game (人生はクソゲーだ!). Do you find that life is indeed a horrible game? 
Atsuko Ishizuka: Yes, I actually think so, however, it has unexpected interesting times as well.
Sho Tanakao: Well, life is indeed a bad game. However, it is the kind of bad game, that I always look forward to!
There were many other anime and game references in the series, how did you come up with these references?
Atsuko Ishizuka: Those were not all originally within the original script, and after we decided to include these references, we went to consult the author of this series, and inserted them after his approval. One example is the scene where there was an extremely familiar reference to the "Objection" scene, when Shiro gave an objection to Kurami being crowned as King which originated from the popular game series, Phoenix Wright.
Sho Tanakao: But of course, it is not the real judge from Phoenix Wright, that character just so happens to look similar to him! It really is just by pure coincidence!
Atsuko Ishizuka: Mysterious thing really do happen huh?!
In the anime, we can see that the graphics were extremely exquisite, with the perfect combination of 2D & 3D graphics. Was the graphic direction and flow you expected and planned to be?
Sho Tanakao: This could only be achieved, solely thanks to all the hard work and perseverance that our dear director has put in all this time.
Atsuko Ishizuka: I really worked hard!
Sho Tanakao: All of our staff that were involved in this project, were extremely satisfied with this creation. We were all really fond of this series and were glad to be part of it till the end!
 That's all we have for NO GAME NO LIFE, stay tuned for more from Ani-Culture.net !
---
"NO GAME NO LIFE"?
I am sure that most are familiar with this awesome hit anime series. But for those who do not, fret not, for here's a brief description of what you have been missing out!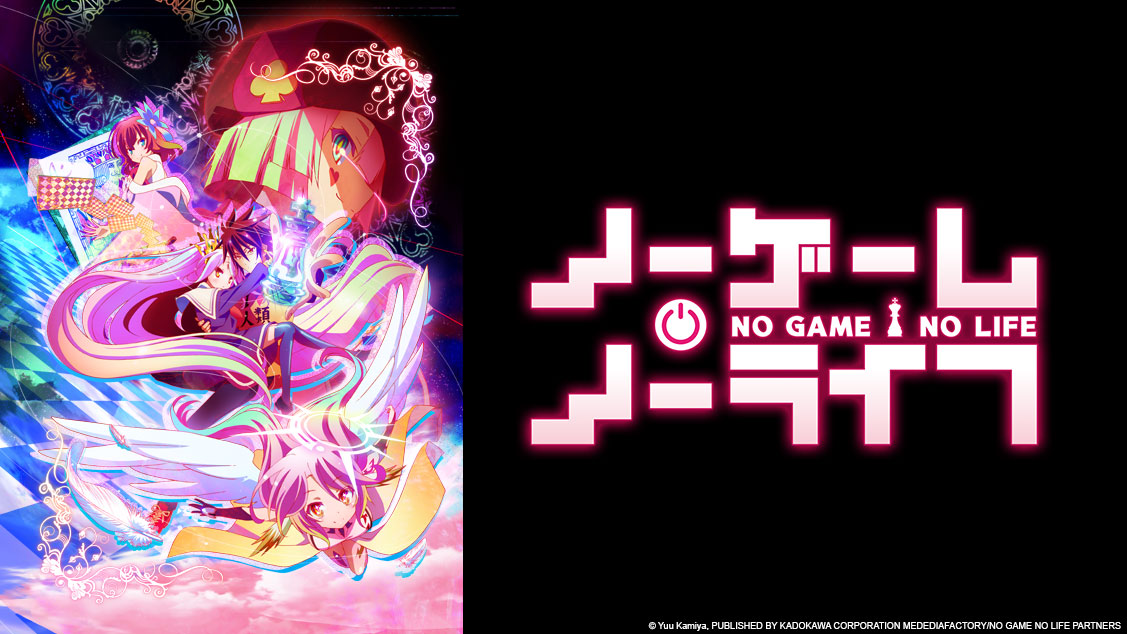 Siblings Sora and Shiro are inseparable, both in reality as well as in the virtual reality. As a pair, their individual skills combined together make them invincible: Sora, with his sharp intuition and penetrating insight; and Shiro, with her incredible intellect that goes beyond prodigy-level of genius. But both of them in reality, are reclusive and unsocial shut-ins (hikikomori), but in the virtual reality, they together form 『  』 (a blank space), a enigma group of undefeated online players who win every game they play with unbeatable high scores. Because the account names of the players are always left empty, the pair become simply known as "Blank".
One day, after defeating a mysterious challenger in a game of online chess, the siblings received an offer from their opponent to be reborn in his world, a world where everything are determined by games. The siblings, tired of their world, accept his proposal and are brought to a fantasy world of Disboard (盤上の世界(ディスボード) Disubōdo) by Tet, the world's sole remaining God and also their former opponent. Together, Sora and Shiro start their journey in saving the weak human race of Imanity and conquering the world to challenge Tet for his title of One True God.
Tell us how can we improve this post?