Kit completed! Scroll down for gallery!
Good day everyone, its been a long time since I have posted, over a year I believe. So today, I will present my current project. This project might not even happened if I gave Gundam Build Fighters a miss couple of months back. Basically, 25 episodes of Build Fighters later, I picked up my Gunpla tools again after 18 months and the rest is history.
Within weeks after picking up my tools again, I have completed the Amuro Ray's Zeta Gundam which was left hanging for couple of years, the latest off Bandai's MG technology, RX-78-2 MG v3.0 and just recently, the HGBF Gundam Amazing Exia. I would have a MG Gundam 00 Raiser in the list had it wasn't found dunk in a mishap literally.
Back to the main topic, the PG Gundam 00 Raiser looks great and to be honest, I did shortlist the kit when it was released in 2009, but circumstances then wasn't in my favor so I dropped it for good then. Fast forward 5 years, fresh after the Build Fighters effect and the ability to travel right up to Tokyo, things have changed big time and it is a good time to grab this kit and build away.
The PG Gundam 00 Raiser kit was bought in Yodobashi Akiba, one of the largest retailers in Japan. And given the good forex Singapore Dollar is enjoying against the Japanese Yen, this is simply too good to pass on. The price of the kit after tax deduction? Just short of 18k Yen which was around slightly above 210 Sing Dollars. Being right at the origin of Gunpla and at Yodobashi, you will get very good offers for Gunpla kits all year round, this is no exception. Comparing to prices back home in Singapore, I will probably be looking at least 400 onward just for the very same kit. Yah, Gunpla is a very overpriced commodity at Singapore to be honest. So if you are a big Gunpla fan and happens to be able to fly up to Tokyo, remember to get a large suitcase and shop to your heart's content there.
Back to the PG Gundam 00 Raiser, just over a week ago, I have decided to embark on this build, despite my previous PG Zeta Gundam build took a couple of months to complete in the midst of my final months in NS, random events and first AFA that was held then. Initially I thought, well, this PG looks complex and chances are I may spend more than 4 months to finish it.
I did opened the box to inspect the contents a couple of times, but I don't really came to expect such a big difference to the PG Zeta built many years ago.
And so, here I went, proceeded with the first assembly of the kit. Sporting a brand new Tamiya sharp cutter and stacks and stacks of Tamiya sandpaper with Rotring mechanical pens, the build began with the leg assembly.
Current progress as you can see in the picture above, the legs and the waist are completed. Next up will be the torso and head unit assembly. Stay tuned to this page here as the build progresses.
3rd September update: Last night, I have finished the main unit assembly, short of the twin GN Drives.
My apologies for the lack of updates, but here it is.
The main 00 Gundam is finally completed! Initially when I started the build, I thought its gonna take me ages to finish it. But in about 5 weeks, from the runners to the standing kit, it has been fun, at times slightly confused and irritated due to the new tech Bandai has applied to this PG kit. But nevertheless, here it is.
Continue where I left off, up next was the 0 Raiser unit.
Relatively simple it seems, given that bulk of the work was spent on Gundam 00 itself.
At times, I was wondering am I building a aircraft or a controller unit for the twin drives.
That aside, the main 0 Raiser is completed and next is the giant GN Sword III.
With both the Gundam 00 and 0 Raiser completed, assembly wise, its fully complete. What's left in store, well, personally its the details that brings more out of a kit. So, I will be applying the wet decals on both the Gundam 00 and 0 Raiser, which will also take some time. Meanwhile, enjoy the completed kit.
With the final detailing completed, here I present, the 1/60 scale PG Gundam 00 Raiser.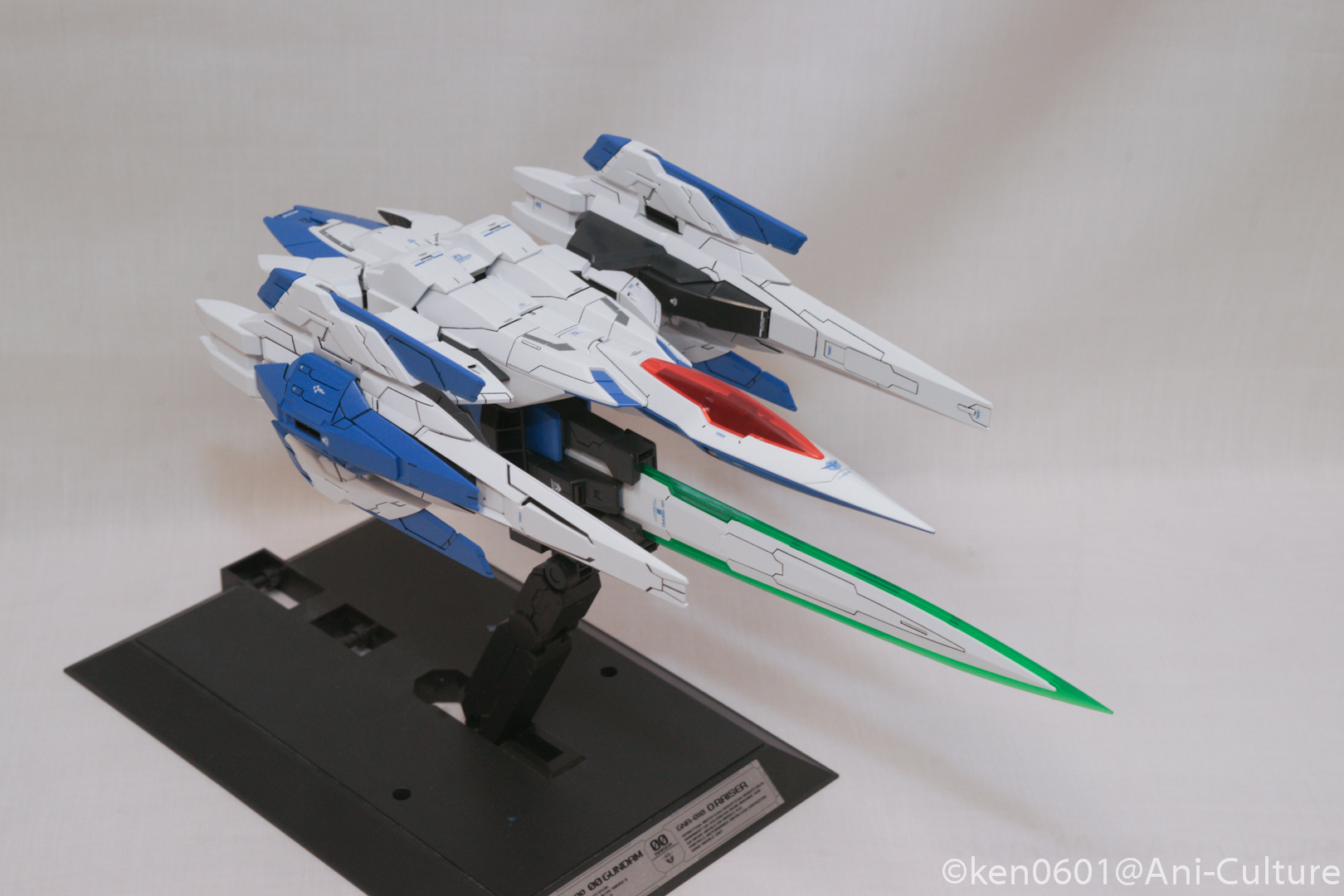 Final words, this perfect grade scale kit in my opinion is one of the enjoyable kits that I have built. The progress, though at times seemed irritating due to the new gimmicks Bandai have added. But overall, the end product is what we have come to expect of from a perfect grade kit. The colors is good as well, so I don't really have a need to paint. Besides, at the moment, I don't have the capability, skills and equipment wise to attempt painting. Just sand down the nubs, add the panel lines and the water slide decals for the final detailing is already good enough.
Hope this article will shed some light and bust some myths about doubts on building a PG kit. It is never too difficult to attempt a PG Kit at all, if you are intending to complete as it is like mine out of box, no painting needed at all.
Till the next kit then.
Tell us how can we improve this post?