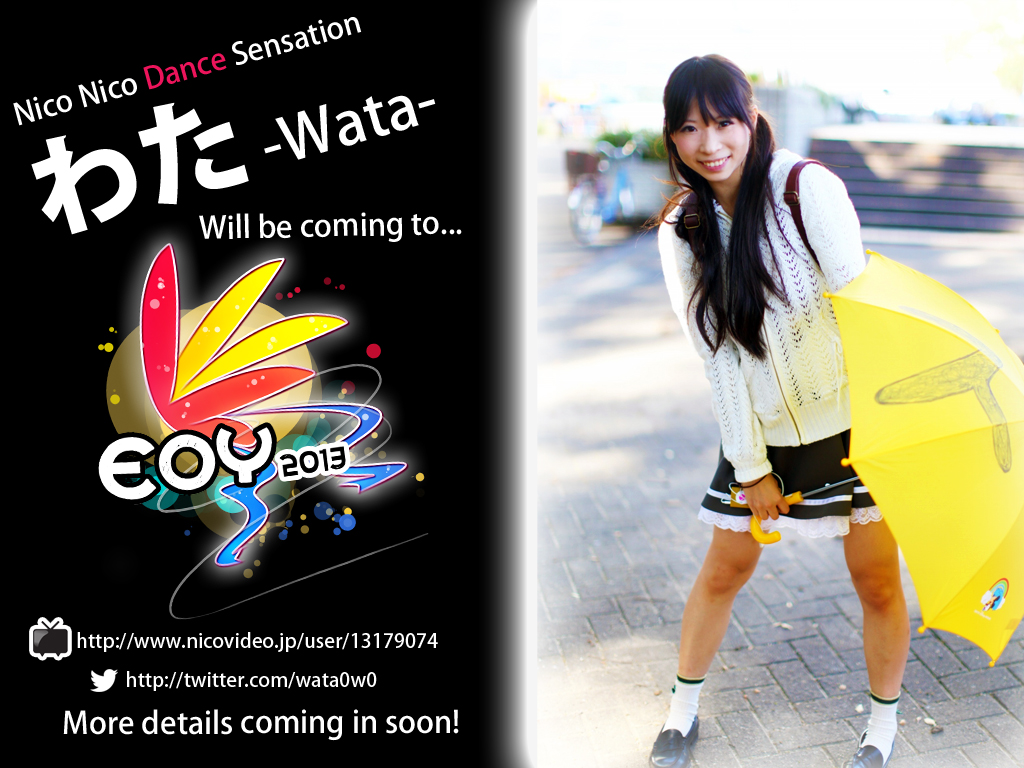 EOY 2013 is coming around the corner, so here's our first content for the event that will be out to gear up for this year's event! We had a chance to ask Wata, a guest performer who will be coming down to EOY this year from Japan!
Here are the Questions we asked her and her reply to our questions are quite cute!
What kind of Songs do you usually dance to? Like as in genres or artist?
VOCALOID, Morning Musume,℃-ute and YuiKaori's songs.
http://www.youtube.com/watch?v=_w-GAP7eIBI
What Inspires you to start dancing and posting them on your channel on Nico Nico Douga?
It was because I loved the moves of <Teach Me!! The Magical Lyric>, which was my first upload, and
wanted to dance it no matter what.
Do you have any tips for those who are new or wanting to try out to dance and post them online?
Generally just dance with a smile is nice in my opinion! Because a smile can be conveyed and transcend beyond the screen.
You have been doing 踊ってみた (odotemita) videos for 3 years already. So, what do you think is the most rewarding out of the 3 years?
I got to meet many wonderful people. I got to dance on stage. Getting the motivation and drive of life from everyone's letters. All of which I would not have gotten without starting to do the dance (odottemita) videos.
For a lot of your videos there is always a "Rilakuma" video at the back of the scenery. Is this "Rilakuma" somewhat a part of your trademark?
Thats the director. It supervises me so that I dance properly haha!!
Do you challenge yourself to dance songs with dance moves that are quite difficult? If so, do you think it's good to challenge yourself with this? And how do you make yourself up to the challenge?
Yes I would challenge difficult myself to dance with difficult moves. When I feel like I want to dance to a song, no matter how hard it is, I would persevere. I would pause the video many times, check the moves, remember it …. and repeat!
http://www.youtube.com/watch?v=_MiGyQLWfXc
Out of all the dances that you have been doing. What was your favourite dance/song? And why it is your favourite and what makes it so memorable?
<too Cute>! Because its my favorite song and because of it I put in alot of effort. It was memorable because it was filmed outdoors when it was the hottest in summer and I almost collapsed! Haha, but, I really like it ノ。・o・。ヽ
In your opinion, Is location very important or a key factor for a dance video? Can you tell us how do you select locations for recording your dance videos?
I don't find it very important. Dancing can be done anywhere, and recording can be done anywhere too, which are the pros of dance (odottemita) videos in my opinion.
When you were invited by EOY to come down as a guest performer, and your first time here in Singapore, what were your first impression of Singapore?
Its my first time in Singapore! My first impression was merlion!!!!!! I can see the merlion!!!!!!! This was how how it felt haha, I was really happy.Also, I thought the streets are beautiful. And, I favor hot whether so Singapore is the best!!!
Will you want record a dance here in Singapore and upload to your channel?
A – Yes I want to! I would really like to do a recording pleaseノ。・o・。ヽ!!
If you have a chance to meet your fans and fellow Singaporean dancers personally and up-close, would you want to record a dance along with your fans and fellow dancers, here in Singapore?
Of course!! Nothing more wonderful than that!!!!!
Where will the location be if you do want to record a dance here in Singapore?
Don't suppose it would be possible in front of the merlion ノ。・o・。ヽhaha
Any words for your fans?
I am very happy that my dance and smiles could reach beyond national borders and across the sea!!! ノ。・o・。ヽ Its my first time visiting singapore but I am sure that I will grow to like singapore alot!!! I may not be much but, best regards from here on out and please take care of me!
http://www.youtube.com/watch?v=xRWJuaiG2_Y
http://www.youtube.com/watch?v=2zpQsyEX94U#t=23
Isn't her energy infectious?
Wata will be performing 2 sets of dances at EOY, spanning over an approximate time of 40minutes.
The dances are at 4:30pm and 8 pm.
She will also be holding a meet-and-greet session at 4:45 pm where you can get her autograph!
Autographs are limited to those who purchase her merchandise at EOY. Available merchandise include T-shirt, towel, wristband and phone strap.
http://theeoy.com/2013/wata-at-eoy-2013/
Catch her at EOY this year happening on the 15th of December at Marina Barrage!
Tell us how can we improve this post?