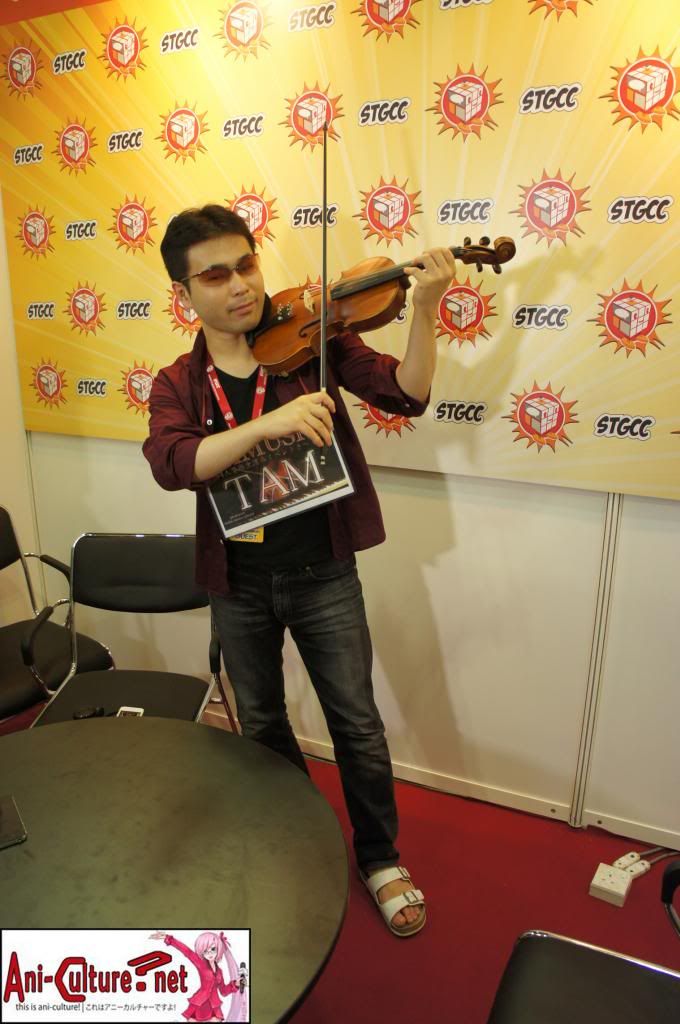 With a week gone since STGCC, we really missing the vibe of the crowd and excitement at STGCC.  On the Saturday of STGCC, we had an exclusive interview with TAM. TAM himself is a pretty awesome guy who is an enthusiastic with us and he has a nice confident vibe around him. So without futher ado, our interview!
*Disclamer, this interview was done through a translator so some details may be missed out.
Your first instrument was the violin yes? Any special reason you picked up music or the violin?
My first instrument was the piano actually as my mother is a piano teacher. I first started playing the violin with my elder brother at the age of 2 as I was forced into it by my parents and I was sick of it when my parents forced me to play classical. However when I fell in love with moe-culture, I begun picking up the violin again to do covers.
Any plans for any solo concerts?
I did my own concerts about 5-6 years ago at my hometown and over time as gain recognition over time, I get less time to plan my own concerts. I answer mostly to offers to play at events now. I started of with street life to concerts and now I'm here! All over the world.
How do you feel reaching each milestone of your musical career from street lives to concerts and now here, invited overseas? Do you prefer the street live to concerts at times?
Where I'm standing now, its because of what happened in the past(my street life) so every single milestone is important to me and I really had fun. Right now, the street life for me is impossible as too many people gather around as I play and the last time, I had to cancel one as there was simply too large of a crowd gathering as I play in Akibahara. I stopped about 7 years ago.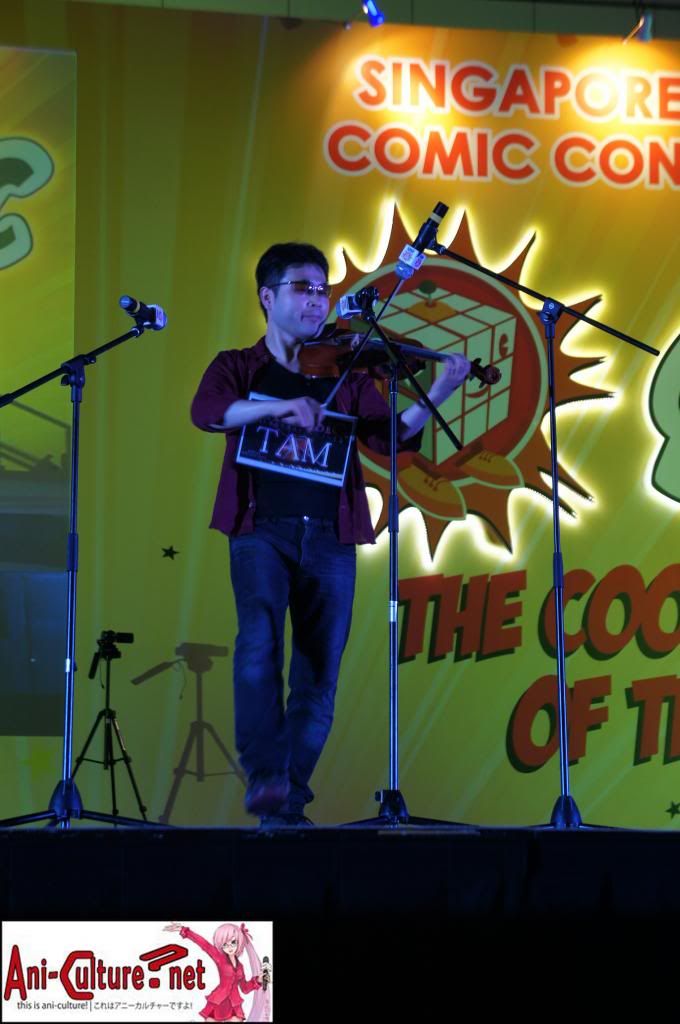 Besides Oreimo and Shingeki no Kyojin, which of the recent series have you taken a liking to recently?
Recently I have taken of liking to Watamote((私がモテないのはどう考えてもお前らが悪い!) and I really like Sword Art Online. I can't really draw a line with my favourite anime as I'm watching too much anime to have a favourite.
From managing TAMUSIC and producing, do you experience any stress and how do you deal with?
In TAMUSIC, the priority in our group is having fun doing what we are doing so we can create a fun evironment for everyone involved so we can deliver fun music to the listeners. Sometimes we have work commitments so we do stay up producing music but that isn't a cause of stress for me.
How do the 400 members interact with each other?
There are 400 members do not interact all together at one time, there are different groups of people in the team who interact with me rather with each other when we work together.
At his live mini-concert, I had the front centre seat in the house and its great to hear his violin up so close! TAM is great with performances and the violin was a joy to listen to despite the acoustics and mics. After the performance, he was totally wiped out but the crowd really love it!
He performed various songs from Touhou, Final Fantasy, Key, Evangelion, Macross Frontier, Puella Magi Madoka Magica, Haiyore-Nyaruko-san and lastly, the Chou Kumikyoku Nico Nico Douga.
My personal favorite really is the Key medley as it really takes you on a trip through the world of Key(thus making me shed manly tears). REALLY diggin his performance!
Stay tune for more!
Tell us how can we improve this post?