At STGCC 2013, we had the honour to join in the group interview for the artist, known for the character design of the anime Guilty Crown, Redjuice.
The following are the questions and answers from the group interview.
Redjuice Interview: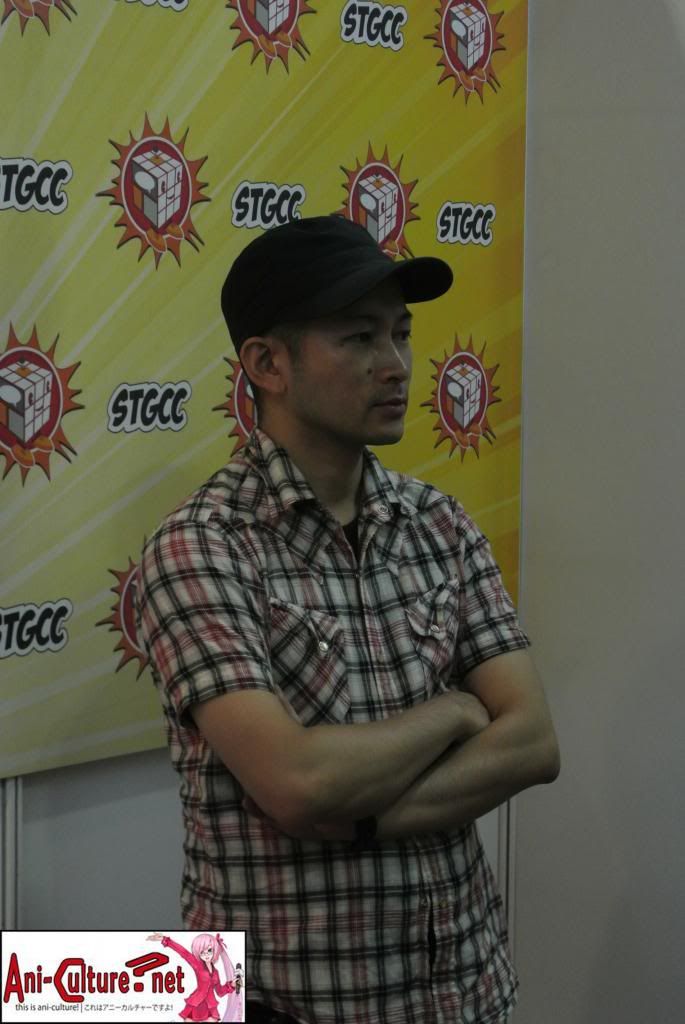 Q: What inspired you to start drawing and choose to be an artist?
A: I was interested in drawing since I was young. Before I became an illustrator, I was an engineer. I illustrated during my free time then and published my works on websites such as pixiv and devianarts. I slowly improved in my illustrating skills.
Q: The first time most people have heard of you is from supercell. How did you start your relationship with supercell?
A: I know Miwa Shirow(illustrator and designer of supercell) personally. Then one day at an event, he asked me if I wanted to collaborate with supercell.
Q: What was your inspiration for the design of Guilty Crown?
A: It started with a scenario. From the scenario, I slowly created the character sheet to the personality and physical feature of the character. As time went by, there were changes to the scenario and the details of each character slowly changed accordingly.
However, for some characters, they did not exist at first but I wanted to sketch them out and showed them to the studio. Surprisingly, they approved it.
Q: You are currently doing illustration as a professional career. How do you manage between your work life and free time?
A: For some illustrators, they have a balance between work and life. However, in my case, since I like to draw and have been drawing in my free time, the balance does not matter to me. Either way I am still drawing.
Q: What do you feel about STGCC and Singapore?
A: I have been to my fair share of doujinshi events, where most booths are owned by independent artists. However in STGCC, there are more corporate booths and also there is ironman which I like, especially the suit from the first movie of ironman.
Q: What are your future plans or projects for redjuice?
A: For now I can't reveal any details as it is a huge project, but this will be something for the fans to look forward to.
Q: You started out as a doujin circle. What do you feel about the transition from doujin circle to being a professional?
A: In the past, I needed to balance between my free time and work. As I started to go pro, the amount of time I spent drawing increased.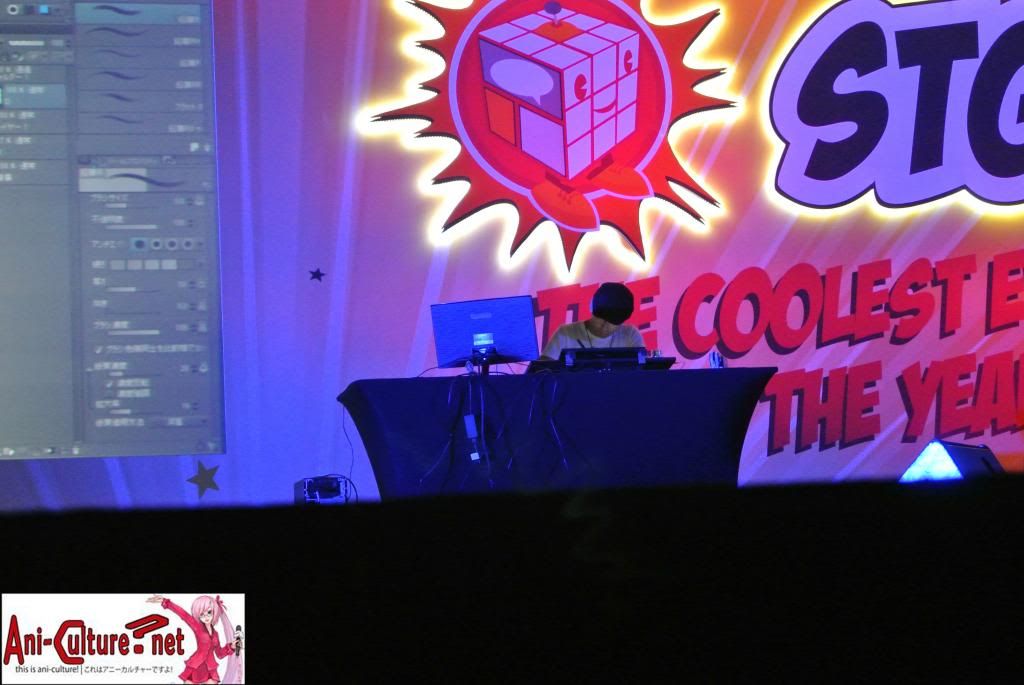 Q: What do you like about the Singaporean lifestyle and food?
A: I like the Chilli crab and zhi cha in Singapore.
Q: You have done a lot of projects for anime and games. Do you prefer working on a project for anime or game?
A: I prefer to do animations as they can be very fun. I am in charge of all the designs but I have to go along with my client's requests. This may be restricting at times but I enjoy the process a lot.
Q: Every artist would have their own source of inspiration. What is yours?
A: Most of the time I come up with the concept from the things that I like but I often don't have the time to finish the illustration. However for animation and character designs, I have to go to meetings to discuss about the character and makes notes on things like the setting of the story.
Q: What are your feelings about STGCC?
A: I am currently enjoying all the variety of things that you can find here. This is quite different from the events in Japan where you would find specific things in the events such as doujinshi things in doujinshi events. In STGCC, everything comes together and it feels messy at times but I like the messiness of it too.
Q: How do you feel every time you release a new work?
A: I feel very nervous when I release a new work. Every time when my deadline approach I am under quite a lot of stress as well.
For now I have quite a lot of projects but I can't reveal any details just yet.
Q: What is your favourite character in guilty crown and why.
A: I see quite a number of Inori cosplayers. This shows that there are a lot of Inori fans out there but I find her a very flat [emotionless] character as she is designed that way. Personally, I like Mana because I put a lot of work and time into her design. She is also quite a lively character.
Q: What do you have to say to yours fans and aspiring artist.
A: I can be quite critical when it comes to drawing. If you study art or any design related subjects in school, even if you already have classes, it is not enough. You have to explore your own originality and your own style through the hundreds and thousands of hours drawing. You have to a fool to your own art and just keep drawing.
Q: What motivation do you have to say to aspiring artists?
A: On devianart and pixiv I would find a lot of top artists who usually draw fanart for attack on titans or other anime series. Even though this can be quite fun, you will never get a breakthrough. If you want to express yourself, it has to come from originality.
That is it for Redjuice, stay tune for more to come like Hideo Baba and Aza interview.
Tell us how can we improve this post?