Happening next weekend at the brand new Institute of Technical Education's Central College, is the ComiFest 2013 happening in conjunction with the ITE's Campus Game Fest. Some of the most looked forwarded highlights includes the cosplay competitions, the workshops and the attempt to enter the Singapore Book of Record.
Included in the festivities will be artist booths over the 3 days.
ComicFest 2013 will be held from the 4th to 6th of October 2013.
Event Information:
CAMPUS GAME FEST & COMIFEST 2013
BY : ITE, SCOGA, PAYM, Comics Society Singapore
DATE : Friday 4th October to Sunday 6th October 2013
TIME : 10.00am to 7.00pm
LOCATION : Blk F, Lv 4, ITE College Central (Ang Mo Kio)
WEBSITE : Campus Game Fest
WEBSITE : ComicFest 2013

TWITTER : https://twitter.com/CampusGameFest
TWITTER : https://twitter.com/sgcomifest

FACEBOOK : https://www.facebook.com/CampusGameFest
FACEBOOK : https://www.facebook.com/SGComiFest
Event Highlight 1:
– Attempt to set Singapore Book of Records for "Singapore's Biggest
Social Game played on the Most Number of Devices" on 5 Oct
Event Highlight 2:
– 'STRIFE' game developed by the US S2 Games. This game launch will
be accompanied a simultaneous launch of 2 editions of a comic, both base
on the game content but drawn in two different styles.
The US edition is by the creator of Teenage Mutant Ninja Turtles, and
the Asia edition is by our very own veteran local comic artist, Mr Wee Tian Beng.
The original concept art by these two veteran artists will be
exhibited at Campus GameFest. Signed preview copies of these
comics will also be available, and public can also try out demos of the
game.
Other event highlights of Campus GameFest:
– Biggest Local Area Network (LAN) gaming and BYOD (Bring your own
Device) party ever organised in Singapore
– DoTA 2 championships will be held live, with attendance from top
teams.
– This is the first time the notable organizers (ITE, PAYM, SCOGA
and CSS) are coming together to hold the event in ITE College
Central, with a focus on youths and education.
– high level of public participation activities, including
grandstand seating to view tournaments and join in to set the
Singapore Book of Records.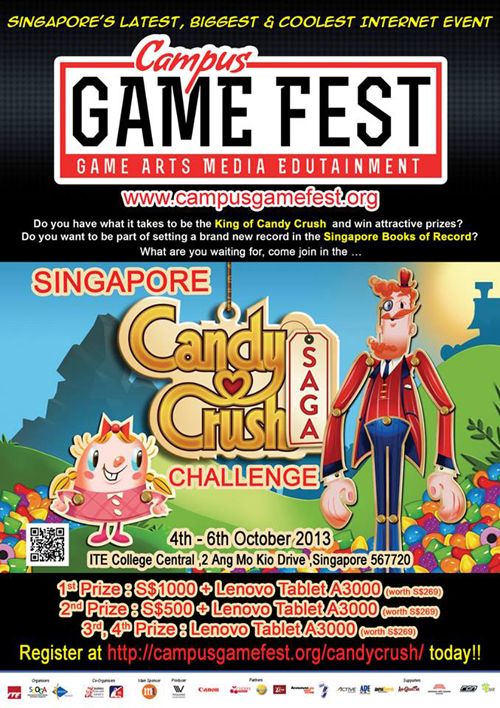 Tell us how can we improve this post?